Andre "Tim" Monteiro

Andre Monteiro, also known as "Tim", is a Brazilian Jiu Jitsu black belt 4th degree, from the Carlson Gracie lineage (under Francisco "Toco") who has medalled in important tournaments such as the World Masters championship, European championship,  Pan American (Gi and Nogi) and the Brazilian Nationals. Andre Monteiro is also a renowned coach, having built his career in from the United States a country he moved to in 2008. Andre "Tim" Monteiro is from Rio De Janeiro, Brazil. He was introduced to Brazilian Jiu Jitsu in 1992, at the New Generation Academy, where he became a top student and trained for competitions. Currently Andre has over 37 affiliated schools around the world and owns  A-Force Brazilian Jiu Jitsu Academy in Great Neck, Queens, New York.
At age 17, Andre earned a sports scholarship to attend Gama Filho University, eventually earning his degree in physical therapy. Andre earned his black belt in 2003 and began teaching Brazilian jiu jitsu seminars throughout Brazil, Europe and the United States.
During his years practicing Brazilian jiu-jitsu, he has always competed in the most highly regarded competitions.
BJJ PEDIGRE : Mitsuyo Maeda > Carlos Gracie > Carlson Gracie > Francisco Albuquerque > Andre Monteiro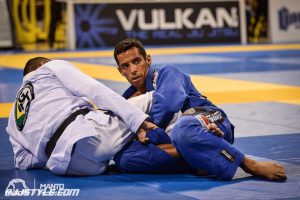 Main Achievements:
Pan American Nogi Champion (2011)
Brazilian National Champion (1994 & 1996)
Miami Open Champion (2013)
Pan American Silver Medallist (2011 master)
Miami Open Silver Medallist (2013 absolute)
Pan American Bronze Medallist (2005)
European Open Bronze Medallist (2013)
European champion 2017
World Masters Silver Medalist 2017
Adult Black Belt:
4X Super-Fight Champion
Pan American 2005 Bronze Medal (feather adult)
American National 2008 Bronze Medal (feather adult)
American National 2008 Silver Medal (absolute)
Pan American 2011 Silver Medal (feather master)
Pan American Nogi 2011 Champion (feather adult)
Houston Open 2012 Bronze medal (feather adult)
Miami Open International 2012 Champion (feather master)
Miami Open International 2012 Silver Medal (absolute)
Europeans 2013 Bronze Medal (light-feather adult)
World Champion 2013 Champion (feather master)
Rome Open 2013 Champion (feather adult)
European Nogi 2013 Silver Medal (feather adult)
NY Open 2013 Champion (feather adult)
Worlds CBJJO 2014 Bronze Medal (feather adult)
Munich Open 2014 Silver (feather adult)
NY Pro 2014 Champion (feather master)
NY Open 2015 Bronze Medal (feather adult)
Boston Open 2015 Silver Medal (feather adult)
Atlanta Open 2015 Silver Medal (feather adult)
Non Black Belt:
2X Rio de Janeiro State Champion
2X Brazilian National Champion